With so many economical air cooling devices available these days, Hessaire evaporative coolers warrant a closer look if you want a quality product for a sensible price.

Do Hessaire make the best swamp coolers for the price? Just how reliable and durable as well as effective and economical are they?

Let's review some of the top models on sale and see.
About the Hessaire Brand of Cooler
The Hessaire company was founded in the United States in 1996 in Cullman, Alabama to provide air-movement solutions to OEM's in the industry such as Carrier, Trane and Lenox.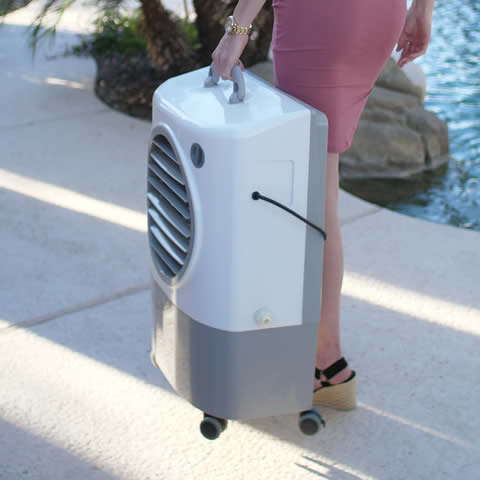 It's main business model was and is the development and manufacture of specially customized props, motors and fans specifically for a variety of air conditioners and similarly relevant ventilation applications for domestic and commercial use.

The company continued to grow acquiring Fanpac, a Phoenix, Arizona based company in 2011. Facpac, one of the largest private label cooler supplies in the US, was chiefly a designer and manufacturer of private label evaporative coolers and their components.

The now combined manufacture-base of the two companies under the Hessaire brand expanded the range to include some of the best US-built air coolers on the market. Their coolers incorporate top quality components and exhibit among the highest performance cooling capability coupled with excellent value for money by pricing their coolers to be affordable by most people.

The Hessaire mission, according to their corporate literature is to,

"Develop innovative, energy efficient cool products to bring cool air to place where air conditioners cannot."
Hessaire Evaporative (Swamp) Cooler Reviews
Now we know something of the company that makes them, let's take a look at some of the top selling models in the range.

Note: As a Sylvane affiliate I earn from qualifying purchases.
Hessaire MC18M 1,300 CFM Evaporative Air Cooler
Starting with one of the smaller coolers in the range, the MC18M is a veritable powerhouse of cooling when compared to other manufacturer's comparable offerings.
Boasting a 1,300 cubic feet per minute (CFM) output, this puppy can blast out enough cold air to cool an indoor space as large as 500 sq ft, outperforming almost all other brands at a similar price point and still coming in as the best quality and value cooler for its price.

There are no fancy frills or complex electronic gadgetry on this model to have to fiddle with, either. Basic manual controls are standard and are actually preferred by many users despite what the more techy oriented viewers may believe!

A simple turn of a knob gets the cooler started and blowing cold air, which is all most people want, let's be real here! The only other controls are there to
Switch the unit between cooling and fan-only mode
Set the fan speed to low or high
This model is suitable for indoor or outdoor use. It's as much at home in a bedroom or living room as it is cooling you out on the patio or porch.

You can fill it with water manually via the front spring-loaded filling door or attach a garden hose to the unit's adapter for continuous use outdoors.
Summing Up
This model is built to last with quality materials, is relatively light at only 16 pounds, has a small footprint being about the size of a regular suitcase and yet it can cool a large space up to 500 sq ft when needed, all for an affordable price.

I recommend you visit Sylvane to see this cooler for a great price, free shipping and in my opinion, it has among the best after-sales service around.
Hessaire MC37M 3,100 CFM 3-Speed Portable Evaporative Cooler
If you want something larger and more powerful than the cooler reviewed above, this model is sure to grab your attention!
The MC37M has a much greater airflow rating at 3,100 CFM and is capable of cooling an indoor space of up to 950 sq ft.

That's a surprisingly powerful delivery of pure chill that comes in a relatively small package. A little larger than the MC18M at 37 in high, 25 in deep but only 17 in wide, it is no larger than a regular size portable air conditioner so doesn't take up much space in the home.

It does, however, weigh more at 40 lbs (without water) but is still easy to wheel around from place to place..

An added bonus is that it's rated for both indoor and outdoor use, so is a perfect addition to the patio or porch to cool you and your family and/or guests down on those hot summer days when you are having an outdoor meal, barbecue or get together.

With the option of a generously large 10.3 gallon tank or hooking it up to a standard garden hose for continuous cooling outdoors, this unit can keep you nice and cool all day long or overnight if you need it.

There are actually two models at this power and output rating from Hessaire, with the only difference being this one has all-manual controls for simplicity, while the slightly higher priced version has electronic controls and can be controlled via a remote.

I chose this manual model over the electronic one because I personally favor simplicity over complexity. I have found over the years that when there is less gadgetry on an appliance, there are fewer things to go wrong and invariably the unit keeps doing its thing for a lot longer.

That's not to say the electronic version is any less reliable. It is every bit as reliable and sturdy as this model but my personal preference is for less fiddly tech.
Summing Up
This is a great workhorse cooler that is not at all cumbersome or overly large, but on the contrary is light and small enough to be easily moved to wherever you need to be cooled. It's a great cooler for outdoors as well as indoors it really blows a lot of chilled air around and may even be a little too powerful for smaller rooms!

You can buy this cooler online at Sylvane by clicking the image above to visit their product page where you can find all the specs, customer reviews and the price.

STOP PRESS: This model is currently ON SALE for the 2020 Summer – click the image above to see the dramatic saving you could be enjoying when you buy only from Sylvane!

Remember, you must live in a climate that has relatively dry air or with humidity levels below 50% for evaporative coolers to work effectively. They are a great way to cool your home without costly air conditioning as long as your climate is suitable.

[Back to TOP]